---
DON'T BE A JOEL SANTANA!! SPEAK ENGLISH HERE! - Smith - 20-11-2018

Hello guys, how is it doing?

I created this thread to practice my english and learn more. A thread like this was created at Realistic Legacy community also, but i was already thinking on it before.

Well, to be honest, you know... Without english in your life, you're an analphabetical dude nowadays. So i was watching some videos on YouTube and realized how stucked i am in the knowledge about an language that i began to study when i was 11. Now, i'm 26 but my development still is totally limited.

Sorry if i am doing it wrong, if i'm thinking in portuguese or whatever, but that is the point! To improve myself! To all of us improve ourselves!

So the task is: IF YOU WANT TO IMPROVE YOUR ENGLISH LEVEL, JOIN ON THIS THREAD! LET'S TALK ABOUT EVERYTHING, BUT WITH THE FOLLOWING RULES:

. SPEAK ONLY IN ENGLISH!
. DON'T USE A DICTIONARY, GOOGLE TRANSLATOR OR SIMILAR. USE ONLY YOUR MIND. WITH THAT, YOU CAN SEE WHAT IS YOUR LIMITATIONS PRECISE AND IMPROVE IT LATER.
. HELP THE OTHER GUYS AND ACCEPT YOUR MISTAKES. 

THE BEST WAY TO LEARN A NEW THING IN LIFE IS MAKING MISTAKES. THAT IS THE ONLY WAY.

SO LETS START.

I'm Smith, 26. I wont talk about my stupid life and i wont write any biography here because i... i just don't want. Whatever.

But i know that i... I'M GONNA KICK YOUR ASSES IF I FIND YOU AT MIDNIGHT, GOTCHA?

AWAY

Please dudes, continue the chat.


---
RE: DON'T BE A JOEL SANTANA!! SPEAK ENGLISH HERE! - Digons - 20-11-2018

Fuck off


---
RE: DON'T BE A JOEL SANTANA!! SPEAK ENGLISH HERE! - Smith - 20-11-2018


(20-11-2018, 09:52 PM)

Digons Escreveu: Fuck off

STOP THIS THING, OK? GO FOR YOUR CHINESE SO!


---
RE: DON'T BE A JOEL SANTANA!! SPEAK ENGLISH HERE! - Digons - 20-11-2018

Seriously, I'm putting my ass on the line to help anyone with their english. If you have any questions, make sure to @me and I'll try to be as helpful as I can


---
RE: DON'T BE A JOEL SANTANA!! SPEAK ENGLISH HERE! - Spectro - 20-11-2018

Nice initiative.


---
RE: DON'T BE A JOEL SANTANA!! SPEAK ENGLISH HERE! - Senna - 20-11-2018

Until the end of this year I wanna be with a good English. Four months ago I created a thread with the same same idea on Legado Realista:

https://legadorealista.com/forum/showthread.php?tid=3307


Senna Escreveu:Hello guys!

This topic is for these that want to trainning your english. We can talk about anything here, but have a one rule only. Don't use no one dictionary, only the words of your head are acept here, for it, is important be honest with yourself e others forum members.

You can help other members teaching the correct write form when something is wrong.

Posts no write in english will be delected.

Faith and honor.
Senna.
---
RE: DON'T BE A JOEL SANTANA!! SPEAK ENGLISH HERE! - Spectro - 21-11-2018

Só You're a traitor creating topics in that forum.
I'm joking i really like the content of that place, one of the best topics is that of a guy addicted to a cellphone gaming, I think the guy name was batoré.

Today I wanna talk about relationships.
Never pressure your girlfriend to have sex with you, nevertheless you should never go after her in sexual intercourse, let her need it, and ask for it or take the initiative, and when you too are banging penetrate her with passion and dominance.
That's the secret to keep a long term relationship, to be the masterful owner of the circumstances.

Let's hear what you guys think about it.


---
RE: DON'T BE A JOEL SANTANA!! SPEAK ENGLISH HERE! - Villefort - 21-11-2018

Good idea guys! 
Congratulations "

Smith San

"!
I hope you help us. 
and I hope this topic is always in rotation

I remember that "

Senna San

" has created the topic on "

Legado Realista

".


---
RE: DON'T BE A JOEL SANTANA!! SPEAK ENGLISH HERE! - Baralho - 21-11-2018

The bravolol its good to learn english.

Right?

P.s. The new age is coming. It is affraid comunist bitch?


---
RE: DON'T BE A JOEL SANTANA!! SPEAK ENGLISH HERE! - SteveHarrisBolhista - 21-11-2018

This kind of topic is really usefull.

I have no close friends, that speaks english, to keep praticing.

Nice initiative.


---
RE: DON'T BE A JOEL SANTANA!! SPEAK ENGLISH HERE! - Digons - 21-11-2018

Today I want to talk about TOny, who jerked off to a BJJ fighter fuckign his girlfriend. He was a ''Bufalo'' on this forum and years of experience didn't help him at all. And there is also Nerd, who visited cheap whores in ''red zones'' in the hopes of getting some easy fucks. He then started to blame US for the shit he was doing. He also ended up using a FREAKING PADLOCK on his dick to stop himself from masturbating. There is also Don Segreto, whose greatest ''segreto'' was fucking shemales and saying that they were ''feminine'' enough to even surpass women


Those were all properly banned


EDIT: forgot to add that those motherfuckers were all Bufalos. That means that YEARS in this place means nothing if you don't force yourself to work on yourself! Also, the were 2 veterans who were properly banned, but in those 2 cases, the situation wasn't so bad. First one was Bufalo, a dude that was a ''relationship striker'', but who was in fact a ''pussy striker''. Implied tons of times that a jerk off was better than women and called his colleagues in the forums cucks if they had girlfriends.

There was also Mandrake, whose asshole went twitching everytime Senna surpassed him in the number of posts.


---
RE: DON'T BE A JOEL SANTANA!! SPEAK ENGLISH HERE! - Villefort - 21-11-2018


(21-11-2018, 07:11 AM)

Spectro Escreveu:



Spectro San

we take care to avoid fall in a trap, trap's woman.

They can use the sex to slave us, I think that you right in your way of thinking but even so we take care.


---
RE: DON'T BE A JOEL SANTANA!! SPEAK ENGLISH HERE! - Thanatos - 21-11-2018

I can read and listen English pretty easily, most of channels that i an following scripted on youtube are English only channels and yes, the midia lie a lot about Bolsonaro, mainly European media. English is a requirement to get an decent job, we all should practice English and unfortunately conversation is much more hard to practice. If we wanna leave this semi socialist country, English is a basic requirement.


---
RE: DON'T BE A JOEL SANTANA!! SPEAK ENGLISH HERE! - A6M Zero - 21-11-2018

Reading this thread make me think how my english is cheap.

From today, i'm gonna improve my english talking, speaking and reading.

And guys, try not to cheat using Google Translate, plz, this thread is for learning.


---
RE: DON'T BE A JOEL SANTANA!! SPEAK ENGLISH HERE! - Texas - 21-11-2018

For those that already have a good level, and want to study Business English, here are 2 very good courses:

http://www.mediafire.com/folder/zbaoq4httc93t/Globo-Bussiness-Vinho
http://www.mediafire.com/folder/3qxxqy6lxu6po/Globo-Biz-Green


---
RE: DON'T BE A JOEL SANTANA!! SPEAK ENGLISH HERE! - Senna - 21-11-2018


(21-11-2018, 07:11 AM)

Spectro Escreveu:


In those moment I think most appropriated begin the Thread there because the inspiration came from other thread
that was there too.

Tell us more about passion and dominance on sex.


(21-11-2018, 02:57 PM)

Digons Escreveu:

It's like we always said. The Real is for everybody, but not everybody is for the Real.

I give a Nerd ban with a little sadness, because he was a long time here, but unfortunately he don't got learn the knowledge shared for us. With Tony was the same thing, he was funny with their dating historys. R. I. P.


---
RE: DON'T BE A JOEL SANTANA!! SPEAK ENGLISH HERE! - Daredevil - 21-11-2018

Last friday, I went to a library and chose some book's in english after have got out of a horrible class from a horrible professor in college.

Now I'm waiting for a medical consultation (doctor's always late) and just saw this thread in here while I finished the book "Forrest Gump" and started to read "Braveheart" (film with Mel Gibson that everyone in this community should watch).

Follow my tip, look for these books from penguin reader's in library's. Read these books will help you guys to hone your habilities (these books are for people in all levels) in the english idiom.

Do what I said, and you'll be better and better in the english idiom just by having fun reading the book's from Penguin Reader's Company.

These book's I quoted have 1200 words and are for people in a intermediate level: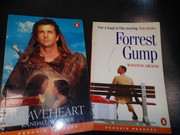 ---
RE: DON'T BE A JOEL SANTANA!! SPEAK ENGLISH HERE! - Thanatos - 21-11-2018

Why not an discussion to learn/improve how ratiocinate on English? Try not elaborate your arguments on Portuguese then translate. Try elaborate your arguments on English. Translate to English is easy, but IMHO you can only be considered fluent when you can think on another language.

I will start with a polemic opinion who can make me permabanned here. I an a huge cRPG fan and din't liked Tyranny.

I din't liked Tyranny. Sure, the

story of the game is epic

. The evil campaign with a hidden "rebel" path is amazing... The choices and consequences are much better than any other cRPG that i've played but there are two things who i din't liked about Tyranny; Tyranny have two aspects of modern games that i particularly hate.

1 - High damage on enemies. On end of chapter one, took around 9 minutes for just an encounter with around 8 enemies. Watching the same animation over and over again. Considering my weapon damage, my staff deals around 5 DPS and enemies with 200+hp are pretty common. This means that is expected for the average enemy to survive 50 hits if you don't use skills. 

2 - Other think that i hate are cooldown. I wanna use my skill again, why i need to wait for 1min56sec? Cooldown started with generic mmorpg's in a way to balance skills because is the unique way that developers found to prevent you from spamming the best skills.

Make other skills viable in different situations? Make skill X better against enemy Y and skill A better against B? No, since most mmorpg's end game is a rush to inflate the gear numbers, they had no other choices. And now mmorpg's instead of spamming the same skill is spamming the same "rotation"... This mechanic really don't belong to cRPG's or to aRPG's. Should be restricted to generic mmorpg's.

Look to most classic RPG's. BG/IWD/VtMB/Arcanum/M&M VI-VIII/etc, none of then have cooldown or ridiculous inflated monster hp.

PS : My grammar is awful.
-------------------------------------------------------------------

Other question, anyone here visited other countries? Please, share your experiences.

I visited Argentina, Paraguay and have an visa do visit USA but din't visited by a lot of reasons.

On Paraguay, i visited the "cuidad del leste", a lot of cheap stuff and the "interior", few kilometers away from the border, was much more "tranquil", gasoline is ridiculous cheap compared to Brazil and electronics too. I visited some firing ranges(photos on guns topic)

On Argentina, i visited Bariloche and was epic. The woman on Bariloche is 10/10 compared to woman on Brazil(at least my state), everything is so gorgeous...


---
RE: DON'T BE A JOEL SANTANA!! SPEAK ENGLISH HERE! - Thanatos - 22-11-2018

Other thing. Some hints to practice English

1 - Read a lot on English, you don't need to spend much time, search the subreddits( reddit.com ) with your interests and read while you are in a bus, for eg

2 - Put every program that you can on English

3 - Like movies? Series? Animes? Gaming? Put everything on English, if you can't listen English put subs, but subs on English. If you don't know a word, try "decipher" the meaning looking to the context and pause if necessary. If you can't figure out, then instead of translating google "unknow word + meaning" and try figure out the meaning of the word by reading his meaning on English. If you can't, then you translate the word.

The first series who i've watched with English only audio was Spartacus. Was after i've watched everything with Portuguese subs, but was a good exercise who improved a lot my comprehension.

4 - Conversations.

I was lucky and on my university, i had conversation with native English speakers for free, but in general courses who allow you to practice conversation on English are very expensive. Not only in English, an German course that i was looking costs almost R$3000,00 for 64 hours of class. With this money honestly i rather learn the basics by myself, spend some days on a city who speaks German in Santa Catarina and try socialize, i believe that will be more effective but not sure. 

If you wanna practice English, courses with English native speakers or maybe travel to a place who speaks English(USA/UK/Falklands/etc) is a good solution but it can be expensive.

Unfortunately i don't figured out an way to practice conversation on English with low cost.  And after the conversation club, my English improved a lot, sure, my grammar still awful and my accent still too. Maybe play online with native English speakers and try conversation with then is a cheap a solution, but they will not understand you if your english is awful.


---
RE: DON'T BE A JOEL SANTANA!! SPEAK ENGLISH HERE! - Digons - 22-11-2018

From now on, I will correct the english of those who write here. This ain't a promisse and I'll do this WHEN I feel like I want to. Be advised that if you think I'm an asshole for correcting, you are just a piece of shit who can't take criticism.


---